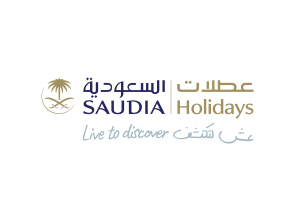 SAUDIA Holidays
Whether you are planning a tourist trip or performing the rituals of Umrah, Saudia Holidays offers you a wide range of options and packages designed to suit all your needs and requirements and enables you to design your own holiday as you wish.
Saudia Holidays offers you the ability to make reservations with more than 900,000 service providers from hotels, flights, and tours around the world with ease. Also, you will earn 1 ALFURSAN Reward Miles for every SAR 4 spent on bookings.
Terms and Conditions:
Miles will be credited to your ALFURSAN account within 1 month of Package completion. Retro claims shall be sent within 180 days from package completion.
Booking must be made via SAUDIA Holidays channels to earn ALFURSAN Miles.
To earn miles with SAUDIA Holidays, you will need to enter your membership ID during the booking phase.