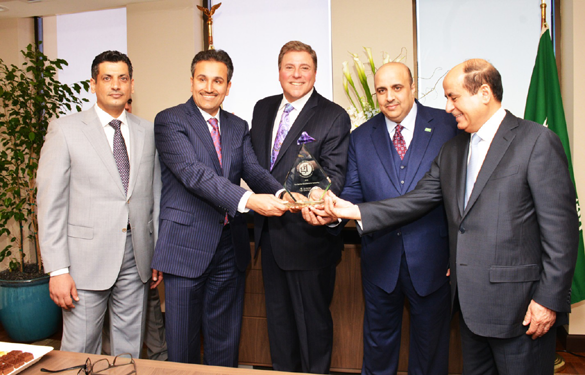 Global Traveler Magazine, a leading business and luxury travel magazine in the USA presented Saudia, Saudi Arabian Airlines, with the Publisher's Recognition Award for Service Excellence and Reliability in ceremonies held during the recent inauguration of the airlines' new offices in Los Angeles.
Saudia was recognized for its steady and consistent service, having started its operations from Jeddah, Saudi Arabia to New York back in 1981. Today, Saudia is still is the only nonstop airline between North America and Saudi Arabia with daily flights from New York JFK International and Washington Dulles International and three flights weekly from Los Angeles and Toronto, using the latest B777-300 with flatbed seats in First Class.
In presenting the award, Global Traveler publisher Francis Gallagher cited Saudia's continuous improvements in its quality services marked by its acquisition of the latest widebodied aircraft, state-of-the-art entertainment system and expansion into new markets.
Receiving the award for Saudia were top executives headed by H.E. Sulaiman Al-Hamdan, President of General Authority of Civil Aviation of Saudi Arabia and Saudia's Chairman of the Board and Engr. Saleh Al-Jasser, Saudia's Director General. Also on hand were Dr. Faisal Al-Sudairy, Saudi Consul General in Los Angeles, Rashed Al-Ajmi, Vice President Passenger Sales, Abdulrahman Alfahad, Vice President Sales and Musaed Almusaed, Saudia Manager USA.