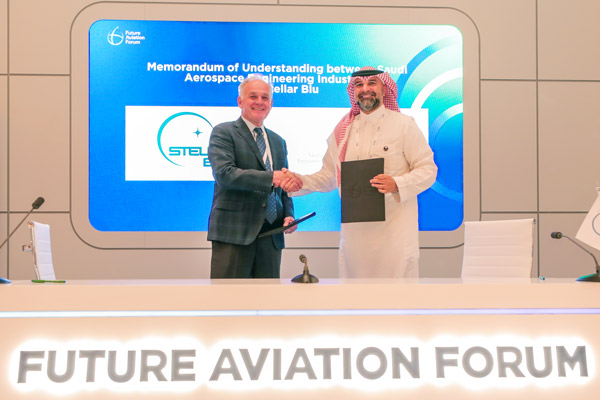 This collaboration delivers solutions today, while building cutting edge technologies for years to come. Under the relationship, Stellar Blu will work side-by-side in establishing SAEI as a Center of Excellence for future aircraft connectivity in the region. This strategic partnership advances SAEI's aim to provide its existing airline and government clients with integrated, value-creating technologies through its soon-to-be-formed aircraft Modification Center. The Modification Center is representative of the capabilities and resources that will be integrated into SAEI's new base of operations in the one million square meter, custom-designed MRO Village located at the King Abdul-Aziz International Airport, Jeddah.
The collaboration with Stellar Blu is true to the tenets of Vision 2030. Benefiting from Saudia Airlines' recent selection of Stellar Blu systems and technology, the two companies will immediately begin the implementation of technology, "know how" and support service infrastructure to assure a world-class deployment on SAUDIA aircraft later this year. In addition, and through this investment in infrastructure, SAEI will become an implementation partner for regional clientele. Ultimately, key elements of all Stellar Blu systems can be manufactured, distributed, and installed via the new SAEI MRO village. "The endeavor with Stellar Blu characterizes SAEI's strategy of identifying and swiftly executing solutions that are technology-enabled and customer-centric with wide-ranging potential for localization. The population of Saudi Arabia is one of the most digitally savvy and connected in the world, the Kingdom has higher levels internet penetration and social media use than North America. Providing our clients with the best possible inflight connectivity, so they can elevate passenger experience and meet expectations, is a priority for SAEI." Commented Fahd H. Cynndy, CEO of SAEI.
Stellar Blu's current generation Falcon 300 technology provides airlines with the unique ability to benefit from multiple satcom providers, thus enabling airlines to provide their customers with uninterrupted connectivity, and maximum performance. The Falcon 300 is unrivaled in throughput, ensuring that passengers can enjoy streaming and social media applications, bringing the "at home experience, to the sky."
Building upon Stellar Blu's Falcon 300 heritage, the two companies will also collaborate on Stellar Blu's new Sidewinder platform, a next-generation aircraft connectivity solution utilizing electronically steered arrays (ESA). This breakthrough platform will unleash the power of new low earth orbit (LEO) satellite constellations, while also taking advantage of traditional satellite networks. The Stellar Blu Sidewinder collaboration will put SAEI at the forefront of aircraft connectivity solutions that will extend well beyond traditional airline services, unlocking unique applications for business aviation customers, border protection forces, and other defense mobility sectors.
In addition, SAEI will benefit from other Stellar Blu partnerships. Most notable of these, and of relevance to the Kingdom, is Stellar Blu's partnership with OneWeb. OneWebis at the forefront of aero-connectivity with its low earth orbit satellite network. Stellar Blu's Sidewinder platform will be uniquely positioned on the OneWeb network, and by working with SAEI will open up many new applications using OneWeb's advanced communication technologies.
"We are excited to collaborate with SAEI on extending the global reach and vision for our connectivity solutions," said Tracy Trent, CEO of Stellar Blu. "The Kingdom's creative thinking, strategic investment in infrastructure and aerospace technology, coupled with the immediate applications at SAUDIA, benefits the Kingdom, their constellation of aerospace companies, and ultimately the passenger."
Under the SAEI/Stellar Blu Framework Agreement, work will commence immediately with training, and certification of SAEI facilities/personnel. Aircraft implementations will occur later this year. Beginning in 2023, SAEI envisions solution availability for new "in region" clients, with an emphasis on the region's low-cost airlines, business aircraft (including helicopters), and select defense applications.