On Ground Accommodations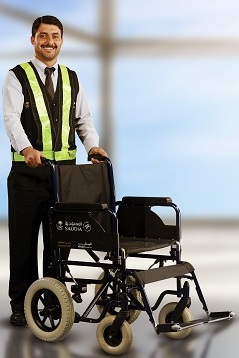 You can use the wheelchairs provided by SAUDIA after ordering the service in advance, where you must arrive at the departure airport two hours before the departure time, where priority is given to the applicants in advance with the need to be at the boarding gate before the start time of the boarding that is printed on the boarding pass, With the importance of showing your boarding pass at the arrival station so that we can provide the best service

Wheelchairs are available at every airport SAUDIA operates to and from.

Be advised that some airports have jet-bridges, while others have special equipment (ex. mobile lift) to board customers who cannot or may require assistance in climbing stairs.
General Wheelchair Assistance
There are three categories of wheelchair assistance that can be requested
Ramp wheelchair assistance service (WCHR) for passengers who require wheelchair assistance as they can climb stairs, but cannot walk long distances.
Stairs wheelchair assistance service (WCHS) for passengers who cannot climb stairs .A PAU (Passenger Aid Unit) is required to get the passenger into Aircraft, but passengers can walk from cabin door to their seat (i.e.. can walk in cabin)
Cabin wheelchair assistance service (WCHC) for passengers who are completely immobile. They cannot walk at all (I.e., Paraplegic, Quadriplegics and Hemiplegics). With this request, Special Reservation requires the weight of the passenger. The WCHC guest shall be accompanied for assistance during the flight and evacuation and to be seated with the companion in adjacent seats.
Checking Your Wheelchair
Your wheelchairs can be checked-in at the ticket counter and/or the gate. It will be greatly appreciated if your wheelchair, that requires disassembly, is checked-in at the ticket counter, so that proper handling can be arranged. You may use the wheelchairs provided by the SAUDIA after checking-in your personal wheelchair.
Please advice us in advance incase you prefer to use your own personal wheelchair at your connection airport. Due to time constraints and the reassembly and disassembly of your wheelchair, this service may not be feasible during your layover .We recommend that you take advantage of our wheelchair service instead.
Checking and returning of personal wheelchairs at the gate area during departure and upon arrival can be arranged.
Powered Wheelchairs
Electric /Battery powered wheelchairs will be checked with your luggage .Battery –powered wheelchairs –with Dry Cell, Wet Cell, Gel Cell , or non-spill able electric storage batteries –are acceptable, but certain safety procedures must be followed in preparing the wheelchair for carriage.
Our employee may ask you for instruction on how to disassembled your equipment is helpful to have the assembly/disassembly instruction with you along with the type of battery is used
Batteries
Batteries on powered wheelchairs will remain attached whenever the wheelchair will fit upright through the aircraft cargo compartment door and stowed upright.
Batteries must be identified as either Spillable or none, so that our employees may establish the correct hazardous materials handling procedures.
Aircraft Accommodations
SAUDIA provide several features on its aircrafts to accommodate your special needs. These include;
A number of selected seats with movable armrests. These enable wheelchair passengers to move and transfer more easily from the aisle into their seats.
A specially designed onboard wheelchair for in-flight usage. The wheelchair is used to help passengers with special needs move around the cabin and go to and from the lavatory in ease and convince.
On some aircrafts, a lavatory with an extra-wide door and low threshold, heavy-duty assist bars, and other design features are available.
For additional information, and in order for us to serve you better, you may contact us on the following:
Sales Call Center: 920022222
WhatsApp: 920022222
E-mail: specialneed@saudia.com.sa